If you are using the Windows XP firewall then you do not have adequate protection especially since it provides no outbound protection. The situation with Windows Vista is not much better as there seems to be agreement that the built in Windows Vista Firewall fails to provide any significant outbound security. This is a real surprise since it has been long accepted that the XP Firewall was quite worthless for the same reason and they now have had years to improve this feature. This may be resolved at some point in the future but in the meantime you need a firewall that can protect you from both inbound and outbound vulnerabilities. Consider trying one of the following three free firewalls.
PC Tools Firewall Plus is a fairly new yet powerful personal firewall for Windows® that protects your computer by preventing unauthorized users from gaining access to your computer through the Internet or a network. By monitoring applications that connect to the network Firewall Plus can stop Trojans, backdoors, keyloggers and other malware from damaging your computer and stealing your private information.
ZoneAlarm from Zone Labs offers basic PC protection for the home user. Guards your perimeter from inbound and outbound threats but with only the basic network and program protection capabilities of the more advanced products in their #1 rated product line.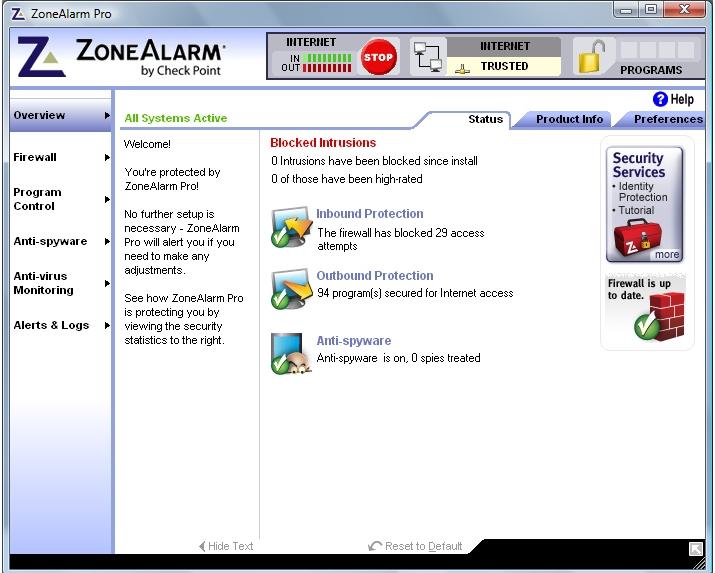 Comodo Firewall v2.3 is our favorite software firewall. This is not a reduced function product, in fact their newest features have resulted in some of the most sophisticated protection capabilities available in any firewall. They use the publicity provided by this and other great free product to promote the other security solutions that they sell to large corporate customers. A number of independent reviews have picked Comodo as the best firewall free or paid! We use this firewall on most of our test computers with consistently good results. Of the three firewalls mentioned in this article Comodo is the only one that is not yet Vista compatible although the Vista compatible version will be out very soon (possibly by the time you read this article) and will still be free.
Remember you can only use one firewall on your computer (unlike antispyware that can often be combined for additional protection) and don't forget this also means you need to shut off the Windows XP or Vista firewall when you add a different firewall.
To get the easy download links for these and other top free firewall products visit http://freeinternetsecuritysoftware.com/free-firewall-software where almost a dozen high quality free firewall products are featured. You will also find top free security software in other categories (antivirus, antispyware, antispamware etc.) throughout the http://freeinternetsecuritysoftware.com website.
The author Dave Jacobs has had a love-hate relationship with computers ever since he purchased his first computer, a Commodore 64 in the early 80's. Many years and a long learning curve have brought him to the point that he is able to share some of what he has learned, on a wide range of topics, with fellow computer enthusiasts around the world.
Article Source: http://EzineArticles.com/?expert=Dave_Jacobs