Articles tagged with: oxygen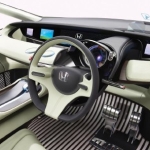 Hydrogen fuel cell vehicles are considered as zero emission vehicles. These vehicles combine hydrogen fuel and oxygen from the air to produce water and electricity. The electricity is then used to power the electric motor which powers the vehicle.
Honda motors has developed a concept fuel cell car called the "Honda FCX" which will become a limited production car in 2008. Honda has equipped the FCX with a fuel stack and an ultra capacitor along with high pressure hydrogen tanks. The fuel cell stack serves as the main power source while the ultra capacitor serves as the storage unit for supplemental power.