Articles tagged with: development
Uncategorized &raquo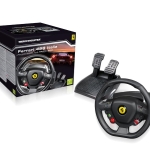 Xbox 360® paddocks clear the way for a sweeping arrival – Thrustmaster, the innovative PC and console accessory brand, today announces the launch of the Ferrari 458 Italia Racing Wheel for Xbox 360. While this new release doesn't feature dual carburettors or overhead camshafts, it does boast two official licenses from Ferrari and Xbox 360 – an exclusive worldwide collaboration. A replica of the Forza Motorsport 4 hero vehicle, the official F458 Italia, this racing wheel provides the ideal combination to enjoy a truly immersive gaming experience – a must-have …
Uncategorized &raquo
The software pretty much like Chrome OS but still in early development. It is OS within browser. It support Windows Linux and Mac OS. Same as Chrome OS, we believe the application is reside on the cloud while the interface using browser layer.
No need to reboot the pc to enter the OS. Just go to http://webian.org/ and install the software.
Uncategorized &raquo
The latest installment of OpenSUSE 11.4 is available to download now after 8 month of development. The distro is based on kernel 2.6.37 offer better stability and better performance. The latest Xorg and Mesa driver support better acceleration for 2D and 3D.
OpenSUSE 11.4 also installed with latest Firefox, Firefox 4. This version of OpenSUSE also the first distribution to ship LibreOffice 3.3.1.
openSUSE is now available for immediate download.