Articles tagged with: clock
Uncategorized &raquo
The new product from ASUS is ENGTX570/2DI/1280MD5. The graphic card overclocked to 742MHz faster 10MHz than stock performance. It also faster 50% when use with ASUS exclusive Voltage Tweak.  It also features 480 CUDA cores with the CUDA clock at 1484MHz. The large 1.28GB GDDR5 video memory is set to 3.8GHz effective rate.
Uncategorized &raquo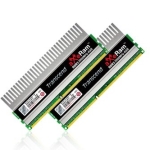 Transcend just launched new memory kit 8GB aXeRam™ DDR3-2000 that contains two identically matched 4GB memory modules. The new high capacity, high clock speed but low voltage  with just 1.6V, it suitable for gamers, overclockers and professional users while benefiting with 64-bit computing. The memory is clocked at 2000MHz with 9-11-9-24 timings capable to powered the most systems with modern processors running more advanced operating systems. You can get the memory kit at around $230.
Uncategorized &raquo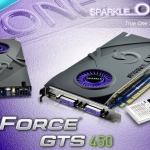 SPARKLE Computer Co., Ltd., the professional VGA card manufacturer and supplier, today announced latest addition with one slot cooling solution to its GeForce GTS 450 series graphics cards, fitting the mainstream users' lifestyle with compact design.
One Slot Cooling Solution
One of the World's first GeForce GTS 450 graphics cards with one-slot cooling design with 2 heatpipes with copper fins, meeting the mainstream users' requirement for compact design. It use the premium 7010 centrifugal fan design featuring greater air volume to take the heat away and lower the temperature rapidly. The cooling …