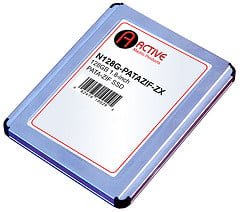 Active Media Products, manufacturer of small form factor SSDs and unique USB drives, today launched the SaberTooth Z4 line of consumer grade 1.8-inch PATA ZIF SSDs as a performance upgrade solution for many popular notebook models. The new SaberTooth Z4 SSDs support sequential read and write speeds of up to 80MB/sec and 38MB/sec respectively.
The SaberTooth Z4 measures 2.8 x 2.1 x 0.2 inches (70 x 54 x 5 mm) and uses an industry standard PATA ZIF interface so it is interchangeable with standard 1.8-inch ZIF HDDs. It was designed specifically for consumer and professional laptop upgrades. The Z4 uses highly reliable MLC NAND Flash as the storage medium.It features garbage collection, wear leveling and bad block management built into the firmware to maintain a high level of performance and reliability over the life of the drive. The SaberTooth Z4 series delivers substantially faster bootup, application load and shutdown speeds than conventional PATA HDDs. It is one of the fastest and easiest ways to upgrade dozens of different netbooks and UMPCs to higher performance and more local storage.
| | | |
| --- | --- | --- |
| | | |
| N32G-PATAZIF-Z4 | 32GB SaberTooth-Z4 Consumer PATA ZIF SSD, 80R/38W MB/sec | |
| N64G-PATAZIF-Z4 | 64GB SaberTooth-Z4 Consumer PATA ZIF SSD, 80R/38W MB/sec | |
| N128G-PATAZIF-ZX | 128GB SaberTooth-Z4 Consumer PATA ZIF SSD, 80R/38W MB/sec | |
"We developed the SaberTooth Z4 series as a cost-effective yet high performance upgrade solution for scores of laptop models using 1.8-inch ZIF drives." stated Jerry Thomson, vice president of sales at Active Media Products. The Z4 is available today in 32GB, 64GB and 128GB capacities through Amazon or through ActiveMP.com.