Articles tagged with: tomorrow
Uncategorized &raquo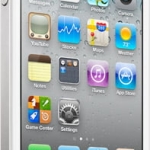 It take a while for white iPhone to appear but worth waiting. The phone expected to launch tomorrow 28 April and said to be available at Apple's retail stores, AT&T and Verizon Wireless stores and select Apple Authorized Resellers.
"The white iPhone 4 has finally arrived and it's beautiful," said Philip Schiller, Apple's senior vice president of Worldwide Product Marketing. "We appreciate everyone who has waited patiently while we've worked to get every detail right."
Uncategorized &raquo
We've previously put the major browser releases to the speed test, but today we're measuring Chrome against the second beta of Internet Explorer 8, as well as the beta of Firefox 3's next iteration, 3.1. We tested tomorrow's browsers on startup and page-loading times, JavaScript and CSS performance
read more | digg story
Uncategorized &raquo
Fujitsu Siemens Computers is proud to announce the winners of its ground breaking Innovation Contest, 'IT Services for Tomorrow's Data Center' – designed specifically to deliver leading service innovation that meets the precise and varying needs of its customers.