Articles tagged with: Netbooks
Uncategorized &raquo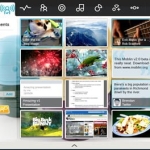 The Moblin steering committee is happy to release the Moblin v2.0 beta for Netbooks and Nettops for developer testing. With this release, developers can begin to experience and work with the source code of the visually rich, interactive user interface designed for Intel Atom based Netbooks. The Moblin v2.0 user experience has been designed from the ground up to provide unique ways to engage with the internet, aggregate your social networking activity, and enjoy your media content. The new user experience and core applications were developed using the Clutter animation framework, leveraging heavily from GL and the physics engine.
Uncategorized &raquo
Netbooks represent the latest consumer electronics craze. They're small, they're portable, they're dirt cheap, and, in 2008, consumers bought somewhere in excess of 14 million of them.
More: continued here