Articles tagged with: ces
Uncategorized &raquo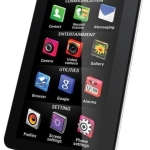 Seem this year CES is about tablet. Every company at the CES want to show their tablet including shuttle. Shuttle is famous with their barebones system.
The P10AN01 is a tablet powered by NVIDIA Tegra cipset. The chip that said will be powered the next generation mobile computing including smartphones, tablets, and embedded system.  Android 2.2 is installed on this tablet.  The resolution is 1024×600 with 10.1inch multi-touch capacitive touch screen.
Technical specification.
Up to 1GHz SMP dual Cortex-A9 40nm
Up to 512MB memory
NAND storage and support micro-SD
Battery life : 9.5 days w/ stand …
Uncategorized &raquo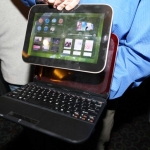 The new Hybrid IdealPad Unveil at CES is IdealPad U1. What is unique about this tablet is, it combine a tablet with laptop. While in laptop mode, the tablet act as a display for the Windows operating system while in tablet mode, it run Android 2.2.
The tablet is powered by 1.3 GHz Snapdragon processor and use capacitive touch screen. The tablet OS later can be upgraded to Android 3.0 once it hit market worldwide.
Uncategorized &raquo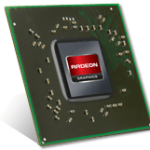 AMD (NYSE: AMD) today introduced its next generation mobile graphics technology, the AMD Radeon™ HD 6000M series, delivering AMD's highest performing notebook graphics for those who want to experience games, entertainment, and productivity on the go. Harnessing AMD's second-generation of Microsoft DirectX® 11-capable mobile graphics architecture, the AMD Radeon™ HD 6000M series provides users with:
• Models offering up to 1.3 teraFLOPS of compute power for an unrivaled gaming experience on up to six displays using AMD Eyefinity technology.1
• AMD HD3D technology for the ultimate …