Articles tagged with: alternative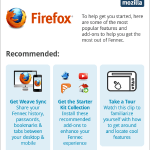 The Fennec browser for mobile phone is now available for Android. It should give us alternative beside legacy mobile browser in the phone or using Opera mobile. For the download, just point your mobile browser to http://firefox.com/m/alpha. Not all Android version are supported. Only Android 2.2 and later supported with installation space about 30MB.
According to Firefox site, the following smartphone should be able to install the browser;
Uncategorized &raquo
Mac users will get their first taste of a Google-developed alternative to incumbent browsers such as Safari and Firefox when the search giant releases Chrome for Mac sometime during the "first half" of this year.
More: continued here
Uncategorized &raquo
It's a common misconception that Linux doesn't have applications for day to day computing, nothing can be further from the truth. In fact I would wager that there is an alternative for any app/function out there. For Bittorrent, here's all you need to know…
More: continued here