Articles tagged with: street
Uncategorized &raquo
The new product from ASUS is ENGTX570/2DI/1280MD5. The graphic card overclocked to 742MHz faster 10MHz than stock performance. It also faster 50% when use with ASUS exclusive Voltage Tweak.  It also features 480 CUDA cores with the CUDA clock at 1484MHz. The large 1.28GB GDDR5 video memory is set to 3.8GHz effective rate.
Uncategorized &raquo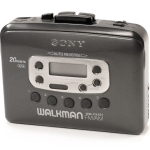 Remember those day when you are young and love to listen to music. Sony revolutionize the way music to be played by bringing music to the street. The term "Walkman" is introduced by Sony, radically change the concept of youth and lifestyle.
Sony already finished the last shipment for five models at the end of April while the outsourcing production to overseas manufacturers in China is still continue.
Sony cassette Walkman will become rare item.