Articles tagged with: sandisk
Uncategorized &raquo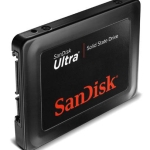 SanDisk Corporation, a global leader in flash memory storage solutions, today introduced the SanDisk Ultra® solid state drive (SSD) for the retail market. The new SSD can extend the life of desktop and notebook PCs, and offers greater performance, durability and power efficiency than a hard disk drive.
The SanDisk Ultra SSD is a convenient drop-in solution for technology enthusiasts looking to upgrade their own PCs for an enhanced user experience. The new SSD features:
    Fast performance: the drive's up to 280 megabyte per second (MB/sec) sequential read and 270 MB/sec …
Uncategorized &raquo
SanDisk Corporation (NASDAQ: SNDK), the global leader in flash memory cards, today announced the first product in a new category of embedded solid state drives (SSD) that are smaller than a postage stamp and offer higher capacities and performance than existing storage solutions.
The SanDisk® integrated SSD (iSSD), the first high-capacity product within this new category, is designed for use in fast-growing mobile computing platforms such as tablet PCs and ultra-thin notebooks. Computing platforms are responding to consumer demand for highly portable, ultra-thin, anywhere-anytime access to the Internet and their …
Uncategorized &raquo
SanDisk's new SSDs offer 60GB for $150 and 120GB for $250 with five times the speed of 7200RPM HDDs.
More: continued here