Articles tagged with: MID
Uncategorized &raquo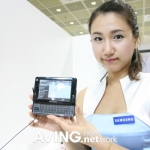 Samsung Electronics unveiled its mobile WiMAX enabled handheld device 'Mondi' during World IT Show 1009 in Korea market.
The Mondi carries many of the powerful features and uses of a laptop computer or netbook, but its compact slider form factor easily fits into the hand or pocket. GPS Navigation provided by Route 66 adds to the Mondi's versatility. Available in a solid black finish, this device extends horizontally to reveal a full QWERTY keyboard and optical mouse. The Mondi™ is packed with multimedia features that offer instant access to E-mail, …
Uncategorized &raquo
Internet Spiral Continues to Fuel Industry Innovation Across Multiple Devices and Experiences
INTEL DEVELOPER FORUM, Taipei, Taiwan, Oct. 20, 2008 – The surge of new Internet-based applications and innovations will require a common, yet flexible platform from which the industry can innovate upon, and the Intel® Architecture is well positioned at the core of exciting new innovations and transformation, according to Intel executive Anand Chandrasekher.
In his keynote today at the Intel Developer Forum in Taiwan, Intel's senior vice president and general manager of Intel's Ultra Mobility Group discussed how technology innovation …
Uncategorized &raquo
Introducing Ubuntu MID Edition – full Internet, no compromise
Ubuntu MID Edition targets an exciting new class of computers called Mobile Internet Devices. Ubuntu MID, based on the world's most popular Linux distribution, and MID hardware from OEMs and ODMs, is redefining what can be done in mobile computing.
Ubuntu MID Edition, a fully open source project, gives the full Internet, with no compromise. Custom options may include licensed codecs and popular third-party applications.
Full Web 2.0/AJAX fidelity, with custom options of Adobe Flash®, Java, and more
Outstanding media playback so you can enjoy …