Articles tagged with: Logo
Uncategorized &raquo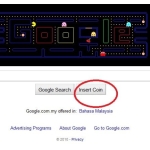 Google celebrating Pac_Man 30th anniversary by changing its logo to the playable Pac-Man arcade game.
Pac-Man (パックマン, Pakkuman) is an arcade game developed by Namco and licensed for distribution in the U.S. by Midway, first released in Japan on May 22, 1980. Immensely popular in the United States from its original release to the present day, Pac-Man is universally considered as one of the classics of the medium, virtually synonymous with video games, and an icon of the 1980s popular culture. Upon its release, the …
Uncategorized &raquo
Google has a shiny new favicon to kick off the new year. The new, more colorful icon uses all the colors of their logo and will replace the short lived silver and blue lower case "g" that was implemented in June of 2008.
More: continued here
Uncategorized &raquo
Logo design in today's world is totally under rated. People do not understand how important a good logo is and how valuable it is to their business. This article outlines the ways in which you should NOT go about getting your logo designed… that is, if you are truly serious about business.
More: continued here