Articles tagged with: indicator
Uncategorized &raquo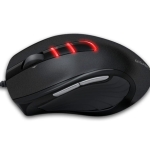 The latest gaming mouse from Gigabyte which is M6900 have up to 3200dpi. It use Precise Optical with 30G acceleration to ensure the best performance during rapid movement. The USB plate is Gold-plated. The mouse also have 3 stage dpi indicator for 800dpi/1600dpi/2000dpi which dpi can be change on the fly. Using software, the dpi also can change to 400~3200dpi.
Uncategorized &raquo
We've already seen the iSight indicator light "disappear" behind the bezel of Apple's MacBook and iMac computers. A recently published patent application could make the iSight itself not only disappear, but move to the middle of the screen. MacBooks, iMacs, and even iPhones and iPod touches could take advantage of the new technology.
More: continued here
Uncategorized &raquo
Lamborghini Reventón(pronunciation:rebenTON) is a mid-engined sports car that debuted at the 2007 Frankfurt Auto Show. It will be the most powerful and expensive Lamborghini to date, costing one million euro. The official press release states that only 20 will be built, but it is rumoured that the total number could be 100. The exterior styling was inspired by the F-22 Raptor. Although the exterior is partially new, almost the entire mechanics (including the engine) are taken directly from the Murciélago LP640.
Initial reports suggest that the 6.5 litre V12 …