Articles tagged with: Geforce
Uncategorized &raquo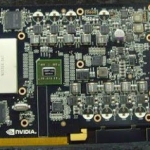 AMD currently hold the title 'fastest graphic card' after launching Radeon HD 6990, but the title might be grab by NVIDIA after that when NVIDIA planning to launch their upcoming Geforce GTX 590 this 22nd March.
The card said to have dual GPU total of 1024 CUDA cores paired with 3GB of GDDR5 memory.
Uncategorized &raquo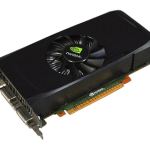 After launching GeForce 560 Ti, NVIDIA will introduce new GeForce and set to launch this March. The new card will be GeForce 550 Ti. The card is based on GF116 chipset.
Performance said to be 35% faster than Radeon HD 5770. The card come with 1GB GDDR5 memory. The card size said to be same as GTS 450.
Uncategorized &raquo
Asus launched it overclocked version of EN9800GTX GPU to serve user that need ultra high-definition graphics for extreme gaming and entertainment. Equipped with the most powerful single Geforce 9800 GPU, the ASUS EN9800GTX able to let users enjoy an outstanding 12% engine clock improvements to deliver full-throttle gaming experiences at extreme HD resolutions; while providing optimal power management with the built-in HybridPower technology.
Features:
Amazing 12% Engine Clock Boosts
Overclock the Shader Clock with New SmartDoctor
Exclusive ASUS GamerOSD for Versatile Graphics Usage
Complete Package for HD PC Gaming and Entertainment
Specification:
Model
EN9800GTX TOP/HTDP/512M
Graphics Engine
GeForce …