Articles tagged with: dozen
Uncategorized &raquo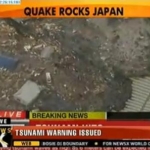 A 8.9 magnitude earthquake hit Japan today and cause a 13-foot Tsunami. Tsunami warning have been issued to dozen of pacific country as far as Chile. At least 1 person killed report said.
The quake struck at a depth of six miles (10 kilometers), about 80 miles (125 kilometers) off the eastern coast, the agency said. The area is 240 miles (380 kilometers) northeast of Tokyo.
Uncategorized &raquo
China expanded an Internet cleanup campaign Friday, shutting down an edgy blog hosting site for apparently carrying "harmful comments" and naming more than a dozen sites containing pornography or other vulgar content.
More: continued here